Ironclad Instructors
Pam Long
Owner and Obedience Instructor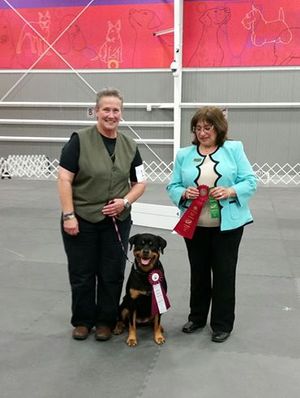 Pam Long founded Ironclad K9 Academy in 1987 and has been training dogs for over 35 years. She has competed in obedience, agility, tracking, carting, barn hunt, water rescue, weight pull, and herding. In obedience Pam has titled Boxers, Newfoundlands, a Pekingese, Golden retriever, St. Bernard and Rottweilers. She titled the first UDX Pekingese and won the working group at the AKC National Obedience Championship with her St. Bernard. She loves working with a variety of breeds and excels at problem solving and proofing. Pam's students have earned multiple OTCHs, High in Trials and High Combined awards and have qualified for AKC and UKC National events.
Laurie Ford
Rally Instructor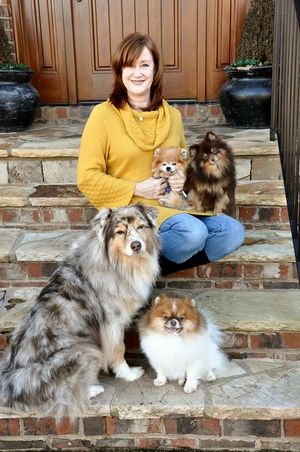 Having previously focused on training out-of-control dogs to become polite and well mannered family members, I was bit by the competitive obedience bug in 2000, and have been competing with both my Pomeranians and Australian Shepherd in Obedience, Rally Obedience, Agility and Dock Diving since then, earning multiple titles on both breeds of dogs throughout the process.
Experience & Affiliations:
Owner of Higher Education Dog Training obedience training services since 2009

Professional Member of the

Association of Pet Dog Trainers (APDT)

since 2008

Volunteer Dog Trainer for various rescue organizations since 2007

Dog Group Class Instructor since 2006 (AKC Star Puppy, Pet Manners, Novice Obedience and all levels of Rally)

AKC S.T.A.R. and C.G.C. Certified Instructor
In addition, I regularly attend pet behavior conferences and seminars, meet with other local trainers, and constantly read books, articles and journals to keep current on the exciting advances in the fields of animal care, training, and behavior. I currently live outside of Atlanta with my husband and six dogs. I enjoy learning about all things "dog" and keep my skills honed by training and competing with my own dogs and teaching others to have fun with their dogs! My life without dogs would be incomplete. Those of you who share my feelings know how intensely strong and deeply fulfilling the human/canine bond is. Using my recipe of clear communication, consistent training, and lots of practice, patience and praise, you will nurture a relationship that will continue to thrive throughout the course of your dog's lifetime.
Laurie's contact info is cp 770-315-5135  Email laurielford@gmail.com
Vicki D'Amico
Nose Work Instructor cp 404-771-1268 vickiad@mindspring.com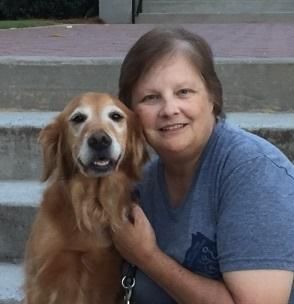 Vicki D'Amico started training dogs in 2000 when she became a volunteer puppy raiser for Canine Companions for Independence where she raised 8 dogs for service/assistance work. She and her Golden Retriever, Pearl, have competed in various sports including Dock Diving, Barn Hunt and most notably Nose Work through both the NACSW and UKC. Vicki & Pearl have achieved their Elite title in Nose Work with high in overall trial, placements in element searches and trials. Pearl is also a certified MRI dog and participates in the Emory Canine Cognitive Neuroscience research program "The Dog Project". Additionally, they are certified K9 teams with both Alliance of Therapy Dogs and HOPE Animal Assisted Crisis Response.